This page is the brochure for your selected program. You can view the provided information for this program on this page and click on the available buttons for additional options.
Summer: Analysis of Comparative Health Care Systems
Luxembourg City, Luxembourg
(Outgoing Program)
Program Terms:
Summer

Budget Sheets
Summer

There are currently no active application cycles for this program.
Analysis of Comparative Health Care Systems: An International Perspective
Luxembourg City, Luxembourg

*Program subject to change and based on sufficient enrollment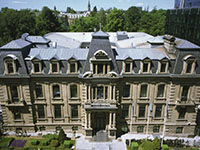 Located at the crossroads of Germanic and Latin cultures, the Grand Duchy of Luxembourg is a landlocked country bordered by Belgium, France, and Germany. It is the only Grand Duchy in the world and is the second smallest of the European Union member states. Though too small for its full name to fit on most European maps, pint-sized Luxembourg — only 2586 sq. km — is wonderfully diverse, filled with lush highlands and valleys in the north and ancient forested landscape to the east. With a strategic location at the heart of Western Europe, more natural beauty than you might expect in given its size, and as one of the top three richest countries in the world, Luxembourgers enjoy a very high standard of living. Luxembourg has a lot of charm and its people are justifiably proud of their country. The nation's motto, "Mir wëlle bleiwe wat mir sinn" (We want to remain what we are), underlines the uniqueness of Luxembourg.

Luxembourg City is the cultural, political, and social heart of the country. Not only is it the country's capital, it is also one of the three capitals of the European Community (the other two being Strasbourg and Brussels). Luxembourg City is cosmopolitan city and at the center of a thriving banking and corporate community. Not only that, the city is surrounded by magnificent historical fortifications classified as a UNESCO World Heritage site. The City of Luxembourg is served by an efficient network of buses and the main center of the city is very compact and eminently walkable. It is also a perfect location for day trips to France and Germany via train.


The SHU in Luxembourg program is housed in the Chamber of Commerce, right in the heart of the financial district of the city. The campus was established in 1991 as a SHU MBA site, and now also hosts SHU's undergraduate summer study abroad program. You will be taught either by SHU faculty from our Fairfield campus or with European faculty who reside in Luxembourg City.

Program Description

This is your chance to study abroad at Sacred Heart University Luxembourg, a well-established campus in the heart of the European Union. This summer program will provide you with a comprehensive experience combining cultural integration, historical and business site-visits and course instruction. Your program will also include day trips to local important sites and to the surrounding countries of France and Germany!

Please browse the links below for further information or contact the SHU Office of Global Affairs.
Course Information

Course is open to Graduate Students in Nursing and Physical Therapy.

Description

PT 599 Analysis of Comparative Health Care Systems; an International Perspective (3 credits)

This inter-professional course will compare characteristics of health care delivery, the demands/needs of the population and how societies respond differently to these demands/needs in the US and selected European countries. The perspectives of patients/consumers, health care providers and policy-makers will be considered. Additionally the course will explore ways in which societal expectations, health care financing, and national priorities influence the delivery system. The course will be taught in a two-week, intensive format in Luxembourg with morning classes and afternoon professional and cultural field visits to selected health care groups and organizations in Luxembourg, France and Germany. Preparatory reading will be required prior to the two week course, and synopsis paper will be due 2 weeks following the course.

Course Credit
This course will count towards your general graduation total. This course will also factor into your cumulative Grade Point Average (course is not available for Pass/Fail).
Syllabus

A sample course syllabus can be viewed here. Please note the syllabus is subject to change.

Faculty

Dr. Donna Bowers
joined SHU in 1997 after 13 years as a pediatric clinician. She previously served on the Pediatric Specialty Council of the American Board of Physical Therapy Specialties and has served as a member of the Specialization Academy of Content Experts in the area of pediatrics. While Chair of the APTA Section on Pediatrics Public Relations Committee, she spearheaded national health promotion campaigns for children. Her clinical practice is in outpatient pediatrics and school-based therapy. She provides developmental screening and consultation to Mercy Learning Center's daycare through the SHU's College of Health Profession Center for Wellness. Web linked consultant to The Rett Syndrome Research Trust launched in October 2011; available for clinical PT consultation to therapists working with girls who have Rett Syndrome.
Dr. Michael Emery is professor emeritus at SHU. He was the Clinical Director of the Sacred Heart University Sports Medicine and Rehabilitation Center for a numver of years. He became the chairman of the Department of Physical Therapy and Human Movement Science in 1999, and also was the director of practice and clinical research for the College of Health Professions. In addition to his administrative duties at the University, he taught pathophysiology at both the undergraduate and graduate levels, and professional issues, and administration and management in the physical therapy curriculum.

Excursions

In addition to taking classes, local field trips and community-based projects will give you the opportunity learn firsthand the lessons and theories of the classroom.. Past excursions have included:
Visits to local hospitals and professional associations

Day trip to Esch, Germany

Overnight to Heidelburg, Germany

Cathedrals, monuments and other various cultural and historical sites
Itinerary and Program Dates:
Summer 2016 dates:
Housing and Meals

Housing is included as part of your study abroad program fees

Your housing while on the program will be at a hotel near near the historic City Center called La Coque. Students will be rooming in pairs. You will have easy access to the City Center, as well as the bus which connects you to your classes at the Chamber of Commerce and other course activities. The hotel has free in-room Internet access, as well as a restaurant, lounge, and laundry service (for a fee). The hotel is fully non-smoking. A European-style breakfast is also included as part of your stay. Also:
Double rooms

1 free access / person / day to the swimming-pool

Breakfast included

Wifi

Vending machines on site
Some meals are included as part of your study abroad program fees

On most days, one group meal will be included in your program fees. This meal is usually lunch. Exceptions include when on day-long or overnight excursions, or free days. When meals are not included you will have the opportunity to explore local restaurants in the city or ajacent to your accomodations. Upon arrival, a schedule of included meals will be provided.

SHU in Luxembourg Handbook

You may also view the SHU in Luxembourg Handbook for further information about living in Luxembourg.

Program Orientation

Upon acceptance to the program, you will be required to attend a mandatory pre-departure orientation. During this orientation, further details about the course and program details will be discussed. The pre-departure orientation will be conducted in late April.

Program Cost

Summer 2016 Program Costs

Confirmation fee: You will be asked to submit a non-refundable $250 confirmation fee payable to "Sacred Heart University" two weeks after your approval to study abroad on a SHU Office of Global Affairs study abroad program.

Billable program costs: The Sacred Heart University Student Accounts office will bill you for the following amounts:
Part-time Graduate SHU tuition rate (3 credits) - $1800
Accommodations/Program fee* - $1400
Registration fee - $115
The total billable program cost due to Sacred Heart University is $3315

*ACCOMMODATIONS / PROGRAM / CONFIRMATION / STUDY ABROAD FEE INCLUDES: Program orientation, local program transportation, housing in shared accommodations, some meals, program excursions, and mandatory basic international health insurance
ACCOMMODATIONS / PROGRAM / CONFIRMATION / STUDY ABROAD FEE DOES NOT INCLUDE: Travel to/from host country, some meals, major medical insurance, visa/resident permit fees, and all personal expenses

Please speak with Financial Assistance to determine how your aid package will apply towards studying abroad.

Additional expenses

Please review the program Budget Sheet for an estimated budget worksheet, including potential expenses outside the billable program cost.

Financial Aid

Sacred Heart Students – Many Sacred Heart University scholarships and grants will apply towards SHU-affiliated programs. You are welcome to contact Financial Assistance regarding loan opportunities and outside scholarships.

Visiting Students – If you receive a financial aid package from your home institution, please check with your study abroad/Financial Aid Office to find out if it may be used for this program. Upon request, the Office of Global Affairs may provide your institution with the necessary documentation to support the transfer of aid. Please note that Sacred Heart University will not process financial aid for visiting students.

Scholarships

Scholarships are a great way to support the cost of your study abroad experience. In an effort to encourage you to study abroad, and to make a study abroad experience more accessible, the SHU Office of Study Abroad prepared a list of scholarships and financial resources. Please note that this is not a conclusive list but it will help you start your search process. The OGA encourages you to apply and take advantage of as many relevant scholarship opportunities as possible.

For more information about this program, please contact the Office of Global Affairs.