This page is the brochure for your selected program. You can view the provided information for this program on this page and click on the available buttons for additional options.
Amsterdam, Netherlands;
Geneva, Switzerland;
Heidelberg, Germany;
Helsinki, Finland;
Leiden, Netherlands;
Leuven, Belgium;
Milan, Italy;
Munchen, Germany;
Stockholm, Sweden;
Utrecht, Netherlands;
Zurich, Switzerland
(Outgoing Program)
There are currently no active application cycles for this program.
EuroScholars
Various Cities in Europe

*Program information subject to change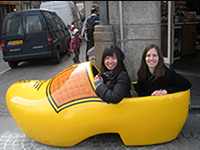 EuroScholars is a unique program, offering talented undergraduates the opportunity to conduct research abroad for a semester, or even a year. As a EuroScholar, you will be part of an international research team, conducting research under supervision of a professor at one of the best European Research Universities. The research is accompanied by an independent literature study (and an elective, if applicable) and is combined with a language and culture course and a European orientation program, called the Midstay Program (2-3 days) in a European city.
One of the main features of the program is its focus on academically successful students. You may choose to participate in a research program in the disciplines of Language & Culture, History, Humanities, and Social Sciences to Physics, Biology, Biomedical Science, or Law and Chemistry at one of 11 major European research universities:
Please browse the links below for further information or contact the SHU Office of Global Affairs.
Course Information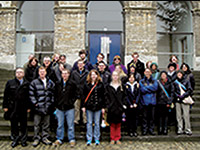 The EuroScholars curriculum consists of a Research Project (main element), literature review (independent study), elective (if applicable), and a language and culture course at the host university. Each semester a a mid-semester European excursion (2-3 days) is organized for all students across the 11 EuroScholars universities.

The main element of the EuroScholars program is the Research Project. When applying to the EuroScholars program, you will select a specific research project from the EuroScholars Research Project Database. Almost all projects are ongoing research projects at the host institution, so as a EuroScholar, you will be an active contributor to an already existing research team. About 175 Research Projects at the 11 partner universities are available, in many fields of study. Research projects are available in Arts and Humanities, Performing Arts, Biology, Chemistry, Engineering, Mathematics, Physics, Astronomy, Computer Science, Medicine, Biomedical Sciences, Law, Economics, Management, Politics, and Social Studies. The remaining curriculum is built around the Research Project in dialogue with the supervising professor.

EuroScholars proposes two different basic curriculum options to assure that the characteristics of the program are best represented (academic research and language and/or culture). Both options have a total of 15 credits for one semester of participation. The credits per component and for the full program will vary. Whether you choose option 1 or 2 also depends on if the preferred host institution offers courses in English in the field of study. The basic element is always the participation in the Research Project.

Option 1 (higher research focus)
3 credits, Language & Culture Course/s

3 credits, Methods & Literature Review

9 credits, Participation in Research Project including article/presentation/paper
Option 2
3 credits, Language & Culture Course/s

3 credits, Methods & Literature Review

6 credits, Participation in Research Project including article/presentation/presentation

3 credits, Elective course in the field of research
Course Credit

SHU approved courses taken during EuroScholars will count towards your general graduation total. Courses will also factor into your cumulative Grade Point Average (courses are not available for Pass/Fail). Courses taken abroad must have an assigned SHU equivalency. Please refer to the SHU Course Equivalency Database for current pairings.
Program Dates

Spring 2017

The academic calendars vary at the different EuroScholars universities. In general, the Fall Semester begins in August or September and ends in December, and the Spring Semester begins in January or February and ends in May or June. Each institution maintains a different academic calendar and may, for example, depend on when a Language & Culture Course/s is offered.

Please note, all dates are subject to change. Do not book your flight until you have been accepted by the host university and the academic dates have been confirmed. Please refer to the host university's website for final program dates.

Housing and Meals

Housing is included as part of your SHU study abroad program fees.

Accommodations are included in the cost of the program. Each of the participating institutions offers good, quality accommodations especially reserved for students participating in the EuroScholars program. Accommodations will be mostly private rooms with shared kitchen, bathroom, and/or shower facilities. The housing is, in most cases, close to the city center and either in walking distance or reachable through public transportation to the university campus.

Upon acceptance at one of the institutions, you will be informed about your accommodations. Please review the university's housing website (provided in each university profile) for more detailed information. Some institutions might ask for a security deposit for the housing that will be returned to you if the room is returned in good condition at the end of the semester. Please note that housing deposits are not included in the overall program fee. You will have to pay any security deposits separately, yourself.

Meals are NOT included as part of your SHU study abroad program fees.

Program Orientation

Upon acceptance to the program, you will be required to attend a mandatory pre-departure orientation. During this orientation, further details about the course and program details will be discussed. The pre-departure orientation will be conducted at the end of April for the fall term abroad and in late November/early December for the spring term abroad.

Upon arrival in Europe, you will also receive an orientation. To assist students with integration in your new living environment and different culture, most host institutions will offer an orientation program at the beginning of the academic semester. Please refer to the university profiles for more details on the program and possible other opportunities for integration and meeting other students. The contact person of the host institution may also provide more information.

Program Cost

Spring 2017

You are required to submit a non-refundable $350 confirmation fee payable to "Sacred Heart University" two weeks after you approval to study abroad on a SHU Office of Global Affairs program. This confirmation fee secures your enrollment.

Billable program costs: The Sacred Heart University Student Accounts office will bill you for the following amounts:
The total billable program cost due to Sacred Heart University is $19,425

*ACCOMMODATIONS/PROGRAM/STUDY ABROAD FEE INCLUDES: housing in shared accommodations, mandatory basic international health insurance, a EuroScholars European orientation program, a local orientation program, student ID-card, use of student facilities at the university (such as access to internet and access to libraries), and research facilities

ACCOMMODATIONS/PROGRAM/STUDY ABROAD FEE DOES NOT INCLUDE: Travel to/from host country, meals, housing deposit, major medical insurance, lab/studio fees, visa/resident permit fees, and all personal expenses

Financial Aid

Many Sacred Heart University scholarships and grants will apply towards SHU-affiliated programs. You are welcome to contact Financial Assistance regarding loan opportunities and outside scholarships.

Scholarships

Scholarships are a great way to support the cost of your study abroad experience. In an effort to encourage you to study abroad, and to make a study abroad experience more accessible, the SHU Office of Study Abroad prepared a list of scholarships and financial resources. Please note that this is not a conclusive list but it will help you start your search process. The OGA encourages you to apply and take advantage of as many relevant scholarship opportunities as possible.

EuroScholars Scholarships are available to students accepted to the EuroScholars program. All participants with a 3.5 GPA and higher are eligible and automatically considered for an award upon acceptance to a EuroScholars research project. No application is necessary.

For more information about this program, please contact the Office of Global Affairs.