This page is the brochure for your selected program. You can view the provided information for this program on this page and click on the available buttons for additional options.
Winter: Project India: Photography & the Living Document
Agra, India;
Delhi, India;
Varanasi, India
Program Terms:
Winter

Budget Sheets
Winter

There are currently no active application cycles for this program.
Project India: Photography and the Living Document
Multiple Cities in India

*Program subject to change and based on sufficient enrollment
India is the largest country in the Indian Subcontinent and shares borders with Pakistan to the west, China and Nepal to the north, Bhutan to the north-east, and Bangladesh and Myanmar to the east. Sri Lanka lies to the south, Maldives to the south-west and Indonesia to the south-east of India in the Indian Ocean. It is the seventh largest country in the world by area and, with over a billion people, is second only to China in population. India is an extremely diverse country, with vast differences in geography, climate, culture, language, and ethnicity across its expanse, and prides itself on being the largest democracy on Earth.

Delhi is India's capital and is a product of over 5000 years of history. With nearly 16 million residents, it is the eight largest metropolis in the world! While in Delhi, you will visit the Red Fort, Humayun's Tomb, Qutab Minar, the Gandhi Memorial at Raj Ghat, and Parliament Street.

Varanasi, also known as the "The Holy City," is situated on the banks of the river Ganges and is one of the oldest living cities in the world, as well as the oldest city in India. While in Varanasi, you will tour the ancient temples and visit the ancient seat of Sarnath and Bharath.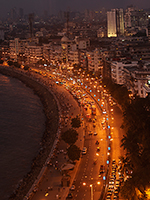 Agra is home to the amazing Taj Mahal, a world wonder and UNESCO World Heritage Site. While in Agra, you will visit the Taj Majal and get a chance to tour the city.

Jaipur, often referred to as the "eternal pink city," is enclosed within the rolling hills of India. In 1876 the entire city was painted pink for the visit of Edward VII, and now every home is required by law to maintain this pink façade. While in Jaipur, you will have the chance to explore the Amber Fort and the Govind Devji Temple.

Udaipur, situated in the forested hilly region of the Aravelli Ranges. Also called the "Lake City," Udaipur houses the City Palace, temples, and forts.

Program Description

Embark on a photographic journey in India. This program will enable you to explore the culture, place, and people of India using digital photography as your medium of expression. The program is designed to help you develop the skills, discipline, and insights necessary to create documentary productions. At the same time, you will submerse yourself in India's past and present culture. There is no better manner for you to begin to understand the workings of a real documentary assignment. Course is open to students of ALL MAJORS!

Please browse the links below for further information or contact the SHU Office of Global Affairs.
Course Information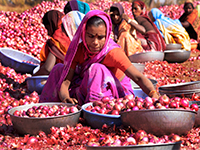 CM 300: Project India: Photography & the Living Document (3 credits)

Taught by Professor Rick Falco, this course will emphasize the 'process' of creating documentary work, which includes everything from preparation, gathering information, equipment, shooting the pictures, the importance of editing, and learning to think on your feet. As a class, the collective goal will be to create a comprehensive portrait of areas you visit during your time abroad.

Course is open to students of ALL MAJORS!

Prerequisites:
Minimum freshmen standing

Students must have basic photo and digital skills, but the course is open to students of all majors

Students must shoot digitally and will be required to bring all of their own camera equipment and a laptop with the appropriate software
Course Credit
This course will count towards your general graduation total. This course(s) will also factor into your cumulative Grade Point Average (course is not available for Pass/Fail)
Syllabus

A sample course syllabus can be viewed here. Please note the syllabus is subject to change.

Faculty

Professor Richard Falco is the President of Vision Project, an organization dedicated to the development of documentary photography, investigative journalism and education. For the past thirty years, he has worked as a photographer, filmmaker, and journalist. As a photographer has had assignments on four continents in over thirty-five countries and has worked for many major magazines, including: Time, Newsweek, Geo, Life Magazine, New York Times, US News & World Report, to name a few. In addition teaching photography, photojournalism & multimedia at Sacred Heart in both the undergrad & graduate programs, Prof. Falco has taught at the New School for Social Research, SUNY, and the School of Visual Arts, and directs all of Vision Project's educational programming.

Excursions

This program includes an abundance of site visits and cultural activities so that you will have the opportunity to experience the cultures of India in their fullest. Visits to historical monuments and places of culture in India may include:
Itinerary and Program Dates
Winter 2014 Session
December 27: Depart from US
December 28: Arrive in India
January 9: Depart India
A sample program itinerary can be viewed here. Please note the itinerary is subject to change.

Housing and Meals

Housing is included as part of your study abroad program fees

During this program you will be staying at various hotels throughout India. More information will be provided shortly.

Some meals are included as part of your study abroad program fees

Breakfast will be included as part of your program fees. You are responsible for your daily lunches and dinners.

Program Orientation

Upon acceptance to the program you will be required to attend a mandatory pre-departure orientation. During this orientation further details about the course and program details will be discussed. The pre-departure orientation will be conducted in late November.

Program Cost

Winter 2014 Program Costs

Confirmation fee: Students will be asked to submit a non-refundable $250 confirmation fee payable to "Sacred Heart University" two weeks after their approval to study abroad on a SHU Office of Global Affairs program.

Billable program costs: The Sacred Heart University Student Accounts office will bill students the following amounts:
The total billable program cost due to Sacred Heart University is $4,570

The total program cost paid to Sacred Heart University is $4,820 (confirmation fee + program cost)

*ACCOMMODATIONS / PROGRAM / CONFIRMATION / STUDY ABROAD FEE INCLUDES: Program orientation, airport transfer, in-country airfare, housing in shared accommodations, some meals, mandatory basic international, and excursions

ACCOMMODATIONS / PROGRAM / CONFIRMATION / STUDY ABROAD FEE DOES NOT INCLUDE: Travel to/from host country, tourist visa, most meals, major medical insurance, and all personal expenses

Please speak with Student Financial Assistance to determine how your aid package will apply towards studying abroad.

Additional expenses

Please review the program Budget Sheet for an estimated budget worksheet, including potential expenses outside the billable program cost.

Financial Aid

Sacred Heart Students– Many Sacred Heart University scholarships and grants will apply towards SHU-affiliated programs. You are welcome to contact Student Financial Assistance regarding loan opportunities and outside scholarships.

Visiting Students– If you receive a financial aid package from your home institution, please check with your Study Abroad/Financial Aid Office to find out if it may be used for this program. Upon request, the Office of Global Affairs may provide your institution with the necessary documentation to support the transfer of aid. Please note that Sacred Heart University will not process financial aid for visiting students.

Scholarships

Scholarships are a great way to support the cost of your study abroad experience. In an effort to encourage you to study abroad, and to make a study abroad experience more accessible, the SHU Office of Study Abroad prepared a list of scholarships and financial resources. Please note that this is not a conclusive list but it will help you start your search process. The OGA encourages you to apply and take advantage of as many relevant scholarship opportunities as possible.

For more information about this program, please contact the Office of Global Affairs.